George Osborne Attends Bilderberg 2011 and Government Censorship Calls Harden
There was a notable hardening in the government's rhetoric after George Osborne attended the 2011 Bilderberg Conference in St. Moritz, Switzerland.
In August 2011, ostensibly in response to the 2011 UK riots, David Cameron made a speech in parliament stating the government was working with police, intelligence services and industry to see if they could "stop people from communicating" via websites and social media when they "know" people are "plotting violence, disorder and criminality". Concerns were raised about how the government planned to "know" what everyone was doing on the internet.
The views were warmly welcomed in China. Chinese state media praised the Prime Minister's speech, indicating it vindicated China's authoritarian approach to web control. China's Global Times wrote:
"…the open discussion of containment of the Internet in Britain has given rise to a new opportunity for the whole world. Media in the US and Britain used to criticize developing countries for curbing freedom of speech. Britain's new attitude will help appease the quarrels between East and West over the future management of the Internet."
Claire Perry Launches her own Lobbyist-backed quasi-parliamentary Inquiry
Two weeks later, Claire Perry MP announced her own "independent parliamentary inquiry" into online child protection. The Perry Review sought to "establish the arguments for and against network level filtering" and would "recommend to Government the possible form of regulation required if ISPs fail to meet Recommendation no.5 from the Bailey Review" (Note that recommendation 5 called for active choice, not default-on network-level filtering).
You can clearly see that Claire Perry had an agenda to push. When the previous Bailey Review did not recommend what she really wanted – network-level filtering—she just launched and chaired her own lobbyist-backed quasi-parliamentary inquiry with a predetermined outcome.
The inquiry was not actually independent, as it is was sponsored by Safer Media and Premier Christian Radio, the same two groups behind the Safetynet petition demanding a default porn block which Claire Perry was backing.
In September 2011 Perry chaired the first public evidence session at which "witnesses" gave testimony. Meanwhile the government continued with its "active choice" policy per the Bailey Review and announced that ISPs would soon be required to have all customers make an active decision about blocking "offensive content", as distinct from unlawful content, with parental controls.
Major ISPs Announce New Code of Practice
On 11 October 2011, the UK's major ISPs announced a new code of practice in line with the Bailey Review, giving parents an "active choice" to install and operate parental controls. The ISPs made clear the policy did not involve automatic blocking or require them to offer network-level filtering, and actively sought to dispel rumours about this. BT, Sky and Virgin Media already offered PC-based parental control software on the network installation CD for new customers. The code simply required them to give customers an unavoidable choice about whether they wanted to install that filtering software during their setup process. Only TalkTalk was choosing to offer optional network-level filtering at this time.
In a media statement, Claire Perry called the initiative "a good first step" but said more needed to be done and the only way to "fully protect our children" was with a default filtering system. She also called on the other ISPs to offer "one-click protection" like TalkTalk.
Murdoch Media Slams the Code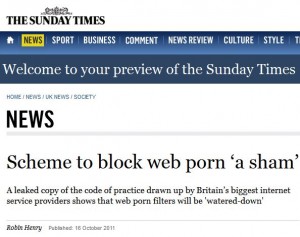 On 16 October 2011 Rupert Murdoch's The Sunday Times slammed the new code of practice with the story, "Scheme to block web porn 'a sham'" which claimed "a leaked copy of the code" revealed the ISPs would only "offer new customers the option of installing software to control their children's access". However, this was no revelation – the ISPs made clear that was exactly what they were doing, and this is also exactly what the Bailey Review had called for.
Eleanor Mills wrote a column in The Sunday Times calling the new measures "A false promise over web porn that betrays our children". She had been heavily involved in The Sunday Times' exclusive announcement of government plans for a default network-level porn block in December 2010 – before the Bailey Review made less stringent recommendations which the ISPs were now fulfilling.
Block Porn Campaign Ramps Up
On 18 October 2011, Claire Perry chaired the second public evidence session of her "parliamentary inquiry" into online child protection. Following the session, Claire Perry stated that a report was being drafted and would be delivered to the Prime Minister. No one could have anticipated just how significant her report would be for the future of the UK internet.
On 28 October 2011, the ISP code of practice was published in full and supported in a government media statement.
Also around this time there was a public outcry over the murderer Vincent Tabak, who was sentenced to life in prison for strangling a woman who was his neighbour. It was revealed that he possessed violent sex videos of women being strangled and subscribed to hard-core internet porn (evidence for which was deemed inadmissible in court). It was suggested in the media that Mr Tabak's pornography habits motivated the killing, but this was never proven.
Nevertheless, it reignited calls for ISPs to block legal pornography. In late October 2011 The Daily Mail reported the Church of England was considering withdrawing the millions it had invested in ISPs unless they took action to stop "the seemingly unstoppable flood of hard-core and violent pornography". The Bishop of Bristol also called for ISPs to block content of the kind viewed by murderer Vincent Tabak and encouraged shareholders in the internet companies to pressure the ISPs to take action.
Then on 7 February 2012, Safer Media, in conjunction with Premier Christian Media, launched the SafetyNet website running the "Protecting Innocence Online" campaign, providing an online petition calling for default internet filtering. That very same day, the government released new industry guidelines and suggested it would push further than what ISPs already had agreed to in their code of practice. The statement claimed "Many parents often feel bewildered and confused about how to protect their children from the potential risks online".
Later that month the government hosted talks with ISPs "to discuss giving parents more choice in how the internet in their home is filtered." In a statement, Communications Minister Ed Vaizey claimed "more needs to be done". It seems that at this point, the government was gearing up to follow Claire Perry's line that self-installed parental controls are too difficult for parents, as a justification for intervention by the State.
Perry Publishes Lobbyist-backed Report
On 17 April 2012, Claire Perry's parliamentary inquiry into child protection sponsored by Safer Media and Premier Christian Radio was published on her website. It called for ISPs to provide network-level filtering within 12 months and for the government to initiate a formal consultation into implementing this policy.
With some help from the media, eventually that's exactly what happened, against the wishes of parents in the UK.
The Daily Mail wages campaign to Block Porn
On 17 April 2012, The Daily Mail promoted Claire Perry's report with the story, "MPs call for automatic block on all online porn to stop the surge in children watching adult material". Following this, The Daily Mail began its "block online porn" campaign, publishing a column by Claire Perry, and a deluge of articles supporting porn blocking measures, or calling for more action while sometimes citing questionable statistics. A barrage of articles calling for a porn block would follow. A list of more than 80 articles published by the paper on this subject between April 2012 and February 2013 is available here.
The Sunday Times also continued the censorship push, publishing an open letter by Safer Media and "many Parliamentarians, academics, charities and experts" supporting Claire Perry's recommendations. It also published pro-authoritarian columns like, "If freedom means seeing our kids defiled by porn, I opt out".
On 26 April 2012 The Daily Mail reported that the Labour Party (the British Opposition) had thrown its support behind The Daily Mail's campaign to block porn. The pressure to filter the internet was mounting. Claire Perry continued to keep the pressure up, and sponsored a seminar in the House of Commons where Dr William Struthers told MPs that children "are scarred for life by porn on internet."
Government Consultations Announced – The Daily Mail Declares Victory
Claire Perry and the media soon made an impact. On 28 June 2012, the government announced public consultations where parents and businesses would be asked whether "automatic online blocks should be introduced to protect children from adult and harmful websites". The Daily Mail was given advanced notice of this and announced the plan the day before the government did, proclaiming, "The move is a victory for the Daily Mail's Block Online Porn campaign" and showcasing previous campaign headlines:
The trouble for Claire Perry and The Daily Mail was that the majority of parents consulted did not end up supporting default web filtering. Before the consultations were completed, the paper seemed to catch wind of this before the consultations closed. In September they reported that Ministers 'have been sabotaging' the battle to block porn on internet and posited the absurd premise that the consultation process was "confusing and complicated, deterring many from taking part" because it required people to follow the complicated steps of downloading a word document questionnaire, filling it out, and then re-uploading it.
On 6 September 2012 the public consultations on default porn blocking come to a close, and Claire Perry said she would change her stance on default blocking if it was "not what consumers wanted". (But when the consultation results were later released and did not support her views, this didn't happen.)
That very same day, Claire Perry delivered the "Safety Net: Protecting Innocence Online" petition to 10 Downing Street with over 115,000 signatures. The statistics used in the petition were highly dubious, particularly the claim that "1 in 3 10 year olds have seen pornography online" which was taken from an informal anecdotal survey done at a single high school.
David Cameron Does a Deal with Huawei
That same month, David Cameron met Huawei CEO Ren Zhengfei at Downing Street, who headed the company operating TalkTalk's network-level filter. Just few months earlier, TalkTalk had made its Huawei-operated web filter default on for all new users.
After a cosy meeting between David Cameron and Ren Zhengfei, Huawei announced plans to invest $2 billion in the UK economy and David Cameron declared the UK was "open for business" despite ongoing security concerns and warnings by a former security official he was "dealing with the devil".
A few weeks after that, The Daily Mail reported David Cameron had new proposals to "toughen up controls on internet pornography" which "go much further than a blueprint drawn up by Reg Bailey" and were "a significant step forward for the Daily Mail's Block Online Porn campaign."
Consultation Released: UK Parents Resoundingly Reject Default Porn Blocks
However, the parental consultations painted a different picture – a picture the government perhaps didn't want. On 15 December 2012, the Government quietly slipped out its report responding to the consultation on parental internet controls without even issuing a press release. The report rejected automatic porn filters after finding that parents did not want it:
"There was no great appetite among parents for the introduction of default filtering of the internet by their ISP: only 35% of the parents who responded favoured that approach".
The Daily Mail attacks "Controversial Report"
The Daily Mail blasted the government and its "controversial report" releasing a string of critical articles from 14-16 December 2012:
The Sunday Times also joined the criticism, calling the government's decision "incomprehensible" and made strident calls for big government authoritarian interventionism to "prevent harm".
After just a few days of this manufactured outrage running counter to people's wishes, it was reported that the government would ask companies providing adult content to block adult content.
Then on 19 December 2012 The Daily Mail declared victory with the story, "Victory for the Mail! Children WILL be protected from online porn after Cameron orders automatic block on sites". The story revealed David Cameron had submitted an article to the paper (published the following day) clarifying that he had ordered a default porn block, and also reporting that he had appointed Claire Perry as his adviser on reversing the commercialisation and sexualisation of childhood. His article, Nothing matters more than keeping our children safe, praised Claire Perry and outlined what her role as an advisor would be:
"Claire is a passionate campaigner for internet safety and mother of three. Her job will be to see this through, to get internet companies on board, to do what it takes to protect children and young people online".
Whatever happened to Claire Perry's claims that she would change her position on default blocking by ISPs if people showed they did not want it – which is exactly what the consultations did show? David Cameron was criticised for doing a U-turn "after receiving a mauling in the Daily Mail" and ignoring the wishes of parents who, in the government's own consultation, clearly showed they did not want default blocking.
And so the relentless censorship campaign continued, and a series of backroom discussions with ISPs ensued, as the government sought to get them fully on board with implementing their plan.
Later in May 2013, the government announced plans to make public WiFi more family-friendly and also released the Bailey Review Progress Report. Interestingly, the report showed that Bailey's recommendations had been met, but until network-level filters were installed by all main ISPs, those pushing for it would not be satisfied.
But those seeking network-level censorship soon had their way after the Bilderberg  meeting was held in the UK in 2013.
Bilderberg 2013 and the UK Web Censorship Announcement
From 6-9 June 2013 the Bilderberg Conference was held in Hertfordshire in the UK. Both David Cameron and George Osborne attended, as did the Labour Party's Shadow Chancellor Ed Balls, and UK taxpayers had to foot the security bill for the secret discussions they weren't allowed to know about. David Cameron had no qualms about attending the ultra-secretive proceedings and footing the security bill with taxpayers money, despite previously promising the same taxpayers he would lead "the most open and transparent government ever".
After this clandestine gathering, everything changed. Within a matter of weeks, an ISP filtering policy was formally announced in the UK, with backing from both major parties.
Murdoch Media Censorship Symposium at Bilderberg-linked Think-tank
Just two days after the Bilderberg conference finished, The Sunday Times held a symposium titled, "Generation XXX: Saving our children from the dangers of online pornography" chaired by the paper's associate editor Eleanor Mills, and attended by Claire Perry MP. Was it just a coincidence the event was held at Policy Exchange, an influential Bilderberg-linked think-tank?
Policy Exchange's links to the Bilderberg Group are no secret. A year earlier, Nick Boles MP, a founder and former director of Policy Exchange, attended the 2012 Bilderberg Conference in Virginia. According to a report by The Examiner, Nick Boles "is a member of the influential Notting Hill Set of MPs of which George Osborne is a member. He is a founder of the Policy Exchange think tank which is an important part of the Cameron government… He is a member of the Henry Jackson Society which advocates force to spread democracy."
During the event, when critics pointed out that filters caused over-blocking due to false positives, Claire Perry rebuffed that such problems were "a load of c**k".
Labour Party Jumps on the Bandwagon
The next day after the symposium, The Labour Party tried to pass a motion in parliament that conflated child abuse images with legal adult pornography, and claimed that 1.5 million people had viewed child abuse material (this figure has been debunked). They criticised the government for allegedly failing to meet the recommendations of the Bailey Review (though it was actually going way beyond what he recommended), and called on the government to bring forward legislation.
Two days later, Claire Perry announced that default porn filters would be rolled out by 2014 in the UK. Interestingly though, the government was yet to announce this formally. So who was really running the government's policy?
Murdoch Media Launches "Generation Porn" Censorship Campaign
Two days after that, the The Sunday Times launched its "Generation Porn" campaign and published the leader "Protect Children from the Power of Porn" and the feature article "Generation Porn" by Eleanor Mills, who had chaired the symposium at Policy Exchange. People were invited to sign-up to "Join the Sunday Times campaign to safeguard children from online pornography".
The campaign used a striking infographic claiming: '36% of the internet is pornography' '1 in 4 search queries is about porn' 'A third of all downloads are porn' 'Online porn makes $3,000 a second' '…and your child has access to it all". All of these statistics have been shown to be highly questionable.
July 2013: UK Web Filtering Officially Announced
The next month, the government announced its now infamous web filter policy. On 21 July 2013, The Daily Mail published the article "Net porn block on EVERY home: Victory for the Mail as PM pledges 'opt in' rule for all web users" which announced David Cameron's plans to have porn blocked by default to every householder in the UK unless they asked to receive it. The story quoted David Cameron saying: "The Daily Mail has campaigned hard to make internet search engine filters 'default on'. Today they can declare that campaign a success". The original story announced David Cameron's policies before he had actually publicly announced them, showing a high level of coordination between Mr Cameron and the paper.
The next day David Cameron officially announced his censorship plans in a speech. In his speech, he conflated legal pornography material with illegal child abuse material (already blocked) which created the emotive impression that not supporting censorship meant supporting paedophiles. This same emotive conflation ran rife through the media's coverage too. And the government kept pushing the line that they had to get ISPs to filter the internet because home-installed parental control software was just too baffling for most parents — when in reality, the government knew that only 7% of parents did not understand how to use such software.
The fact that illegal child abuse material was already blocked by ISPs, and the new filtering was going way beyond legal adult material was drowned out in cries to 'protect the children'. Following the announcement, few mainstream media outlets, with some exceptions, even reported that the "porn filters" would target a swathe of material apart from porn.
From looking at the history leading up to this policy announcement, the interconnected web of elite interests becomes visible. Clearly the ex-banker Claire Perry – who came from nowhere to become the protégé of 7-time Bilderberger George Osborne and a hugely influential politician — was the main agent pushing the agenda, driving through what would become official UK policy with the support of religious charity Safer Media.
But the agenda would not have gotten very far without support from two key quarters: The media, in particular The Daily Mail, and industry, in particular Huawei who operated the first network-level filter in the UK, and proved it was technically feasible.
Next up, we'll take a closer look at the roles they played in this scheme.