The latest release of thousands of emails from Julian Assange's WikiLeaks includes an email between famous astronaut and ET disclosure proponent Dr. Edgar Mitchell and the Hillary Clinton 2016 Presidential Campaign chairman John Podesta. In this email the late Dr. Mitchell shares a link to a Conscious Reporter article discussing the importance of banning weapons in space.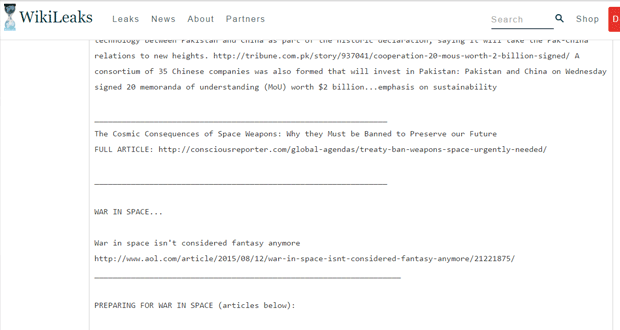 As the world watches every new WikiLeaks release for some sign of pre-US election disclosure, a set of 2,000 emails was released a few days ago which included information related to disclosure of extraterrestrial intelligence.
The latest leaks reveal that in 2015 the Apollo 14 astronaut Dr. Edgar Mitchell – sixth man to walk on the moon – was in contact with John Podesta – the current chairman of the Hillary Clinton 2016 Presidential Campaign and apparent supporter of ET disclosure – to arrange meetings to discuss the furtherance of a ban against space-based weapons and the introduction of zero point energy.
In the leaked email, Dr. Mitchell draws Podesta's attention to the War in Space race accompanied with a reminder that benevolent extraterrestrials are helping to bring zero point energy to the planet, but that they would not tolerate military violence "on Earth or in space."
Dr. Mitchell then refers to information shared with him by his colleague Dr. Carol Rosin, a Disclosure Project witness who worked closely with the late head of the United States space program Dr. Wernher Von Braun. Dr. Rosin contributed to a treaty to ban space weapons systems alongside Dr. Mitchell – the Treaty on the Prevention of the Placement of Weapons in Outer Space – a copy of which Dr. Mitchell attaches to the email.
Dr. Mitchell then gives Podesta a link to a proposed cooperation in space technology agreement between Pakistan and China, followed by a link to an article published on the Conscious Reporter in July, 2014, and other links to mainstream media articles related to the War in Space:
Text from Dr. Mitchell's leaked email:

The following information … was shared with me by my colleague Carol Rosin, who worked closely for several years with Wernher von Braun before his death.

Carol and I have worked on the Treaty on the Prevention of the Placement of Weapons in Outer Space, attached for your convenience.

…

________________________________________________________________

The Cosmic Consequences of Space Weapons: Why they Must be Banned to Preserve our Future FULL ARTICLE: https://consciousreporter.com/global-agendas/treaty-ban-weapons-space-urgently-needed/

________________________________________________________________
The article referenced in Dr. Mitchell's email to Podesta explores the potential cosmic consequences of space weapons, and why they must be banned to preserve humanity's future. It discusses the potential implications of allowing weapons in space, from the devastating effect satellite destruction would have on communications and navigation systems, to the possible creation of an accidental nuclear war.
The article went on to examine the different arguments for and against outer space weapons systems proposed by various world governments, and how the possibility of space weapons could isolate us from the benevolent assistance of advanced extraterrestrials, which many civilian and military witnesses acknowledge we are already in contact with.
The full email between Dr. Mitchell and John Podesta can be viewed here.
You may also like to read the original article linked to in the leaked email: The Cosmic Consequences of Space Weapons: Why They Must Be Banned to Preserve Our Future